RS TAICHI HISTORY
HISTORY
"It all started from the passion of one rider: our founder, Taichi Yoshimura."
RS TAICHI's products are produced by Taichi Yoshimura, a former professional racer who still enjoys motorcycles.
That's why there are no compromises made when developing our products.
Our products exude Yoshimura's spirit as a racer.
And riders can tell our products were made by an athlete who deeply understands the sport.
PROFILE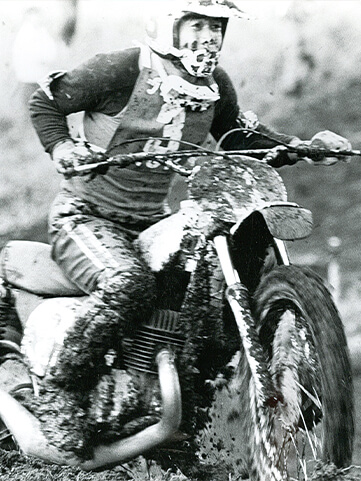 Founder Taichi Yoshimura
Taichi Yoshimura was born in Osaka in 1946, and through the 60s and early 70s, he was sponsored by both Suzuki and Honda competing in All Japan Motocross and World Motocross GP, bringing home many victories. After retiring in 1975, he soon established the RS TAICHI brand, supporting many of the riders he had encountered in his career, making his presence as an authority in the industry further known. Currently, he also serves as the Vice President of the MJF Legend Club.
Winning the All Japan Motocross Championship.

Recognizing his outstanding performance in motocross since his school days, Suzuki signed Yoshimura as a rider. In 1967, he won the championship in the All Japan Motocross 125cc class, as a well as a double title in 1970 for both the 125cc and 250cc classes. He became one of the top motocross riders in all of Japan.

Competing in the World GP

In 1971, Yoshimura traveled to Europe to participate in the World Motocross GP as a delegate of Japanese riders. The following year in 1972, he surprisingly transferred to Hondo and brought them their first motocross victory.
HISTORICAL RECORDS
"Taichi Yoshimura's passion for motorcycle racing
is the basis of all things RS TAICHI."
After retiring, he brought his vision to life,
creating motocross products that only a pro rider could implement.
Taichi Yoshimura finished his last season in 1974 and decided to retire. However, that is when he began to envision a new dream evoked by his motocross passions: "If only I could share the same joy of motorcycles with other riders using everything I've learned from my own experiences..."
And thus, RS (Riders Sport) Taichi was born.
It is because Yoshimura has such fondness for the sport that all of the RS Taichi products are given the utmost care and time in development. From all of the gear to various bike parts, each and every one is embedded with Yoshimura's pure love for motorcycling.
FOUNDED IN 1975
1975

Established Riders Spot Taichi, an authentic pro motorcycle gear shop in Daito, Osaka.

1976

Gear bags were RS TAICHI's first original manufactured products.

1983

The current head retail location was built in Nakagaito, Daito

1984

Developed original riding shoes RST301 with Japanese sports shoes manufacturer, ASICS.

Built Ryder Park, a full-scale offroad sports track facility.

1985

Released road racing gear brand, Nixe.
Launched RS TAICHI original Oil Filter.

1988

Kevin Schwantz contracted with RS TAICHI, winning the World Grand Prix Suzuka Circuit.

1990

Announced original offroad wear TAICHI FORCE.

1991

Developed original tire warmer with Japanese fiber manufacturer TEIJIN using "softelec." Supplied tire warms to McLaren's Formula 1 Racing Team.

Developed original front shock absorber for mountain bikes in partnership with SHOWA.

1993

RS TAICHI expanded to cruiser rider market with new brand OPTIMA.

1996

RST-1 adopted by Honda factory team.

1998

Released new LD Equipment Touring Motorcycle accessory series.

2005-2006

Keiichi Kitagawa won FIM Endurance World Road Racing
Championship title.

2006

Participated for the first time at the largest motorcycle show in the world: INTERMOTO in Germany.

2006-2007

Held exhibition at EICMA in Italy and the AIM EXPO in America.

2008

New logistics center opened in Higashi-osaka.

Introduced T-RRAPS, the first racing suits with built-in air bags.

2009

Nobuatsu Aoki wins Suzuka 8-Hours.

2010

Announced L-TAICHI as new brand logo.

RSB260EL blade holster bag won the Good Design Award.

Began operating offroad course Ryder Park Ikoma (formerly Suzuki Auto Land).

2011

Released E-HEAT series: gear with electrical heating system via mobile battery.

2013

Azlan Shah Kamaruzaman won Petronas FIM Road Racing Championship SuperSport SS600 title.

2014

Josh Hayes won AMA Road Racing Championship SuperBike title.

 

Contracted with Hafizh Syahrin: Moto2 Road Race World Champion

New "TIPS" protection slider concept debuted as Suzuka 8-Hours; worn by: Kevin Schwantz, Satoshi Tsujimoto, Nobuatsu Aoki, and more.

2015

Released new era chest protector TECCELL Chest Protector, which won the Nikkan Jidosha Shimbun Grand Prize in the Bicycle Division.

2015-2016

Taichi named official gear supplier for ASIA DREAM CUP.

2016

Apiwat Wongthananon won Asia FIM Road Racing Championship AP250 class title.

Developed TECH-AIR, leather racing suits with built-in airbag system.

2017

Supplied official team gear to TEAM SUZUKI ECSTAR (MOTO GP).

RS TAICHI riders dominate the winners' podium at the traditional American race Daytona 200.

Introduced division-type TECCELL chest protector with enforced surface plate for heightened safety.

2018

Supplied gear for Hafizh Syahrin, who was promoted to the MotoGP class.

2019

Announced collaborate with NEWERA and BIOHAZARD (Resident Evil).

NEWERA COLLABORATION

BIOHAZARD COLLABORATION

Motorcycle Glove GP-EVO.R is a glove for professional motorcycling with modern safety features and a design inspired by traditional Japanese armor. When engineering how best to fit the hard protector over the soft glove, the resin-molded protector was prototyped utilizing 3D printing in order to perfectly match ergonomic functionality with the shape of the glove. In the case of a fall, the resin-molded protector reduces the frictional resistance against the road surface. This lessens the impact energy in order to prevent hand injuries. With the combination of two types of natural leather and Elastic Aramid fiber, the glove ensures a comfortable fit as well as freedom of movement unimpaired by the protector.

2022 
            Launch of the  NEW* TAICHI USA WEBSITE for North America.
TO BE CONTINUED
"With 40 years in the business, we're going to the next stage."
After countless innovations, TAICHI is going even further.
Always working from a rider's POV and keeping one step ahead,we strive to make the best gear to support all riders.